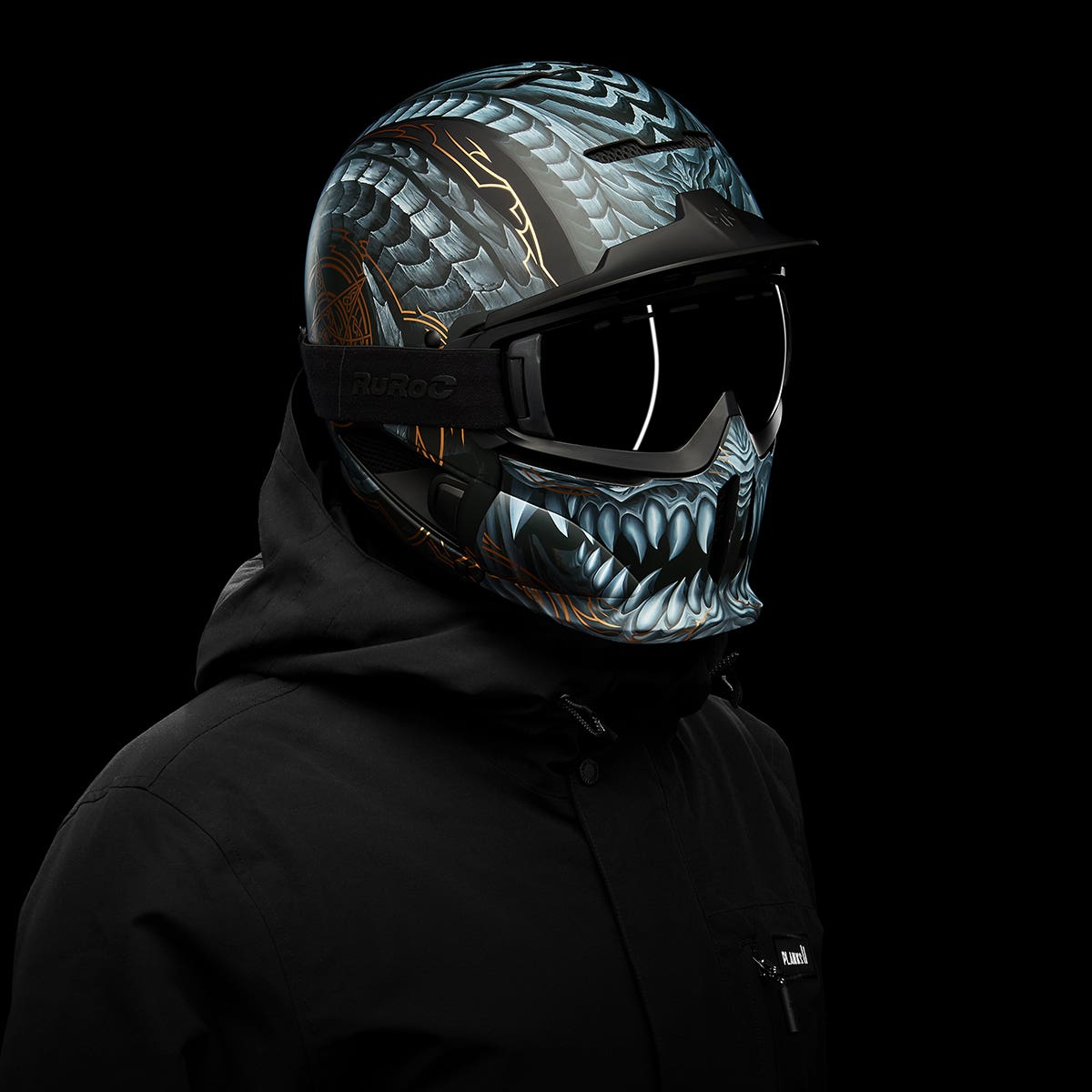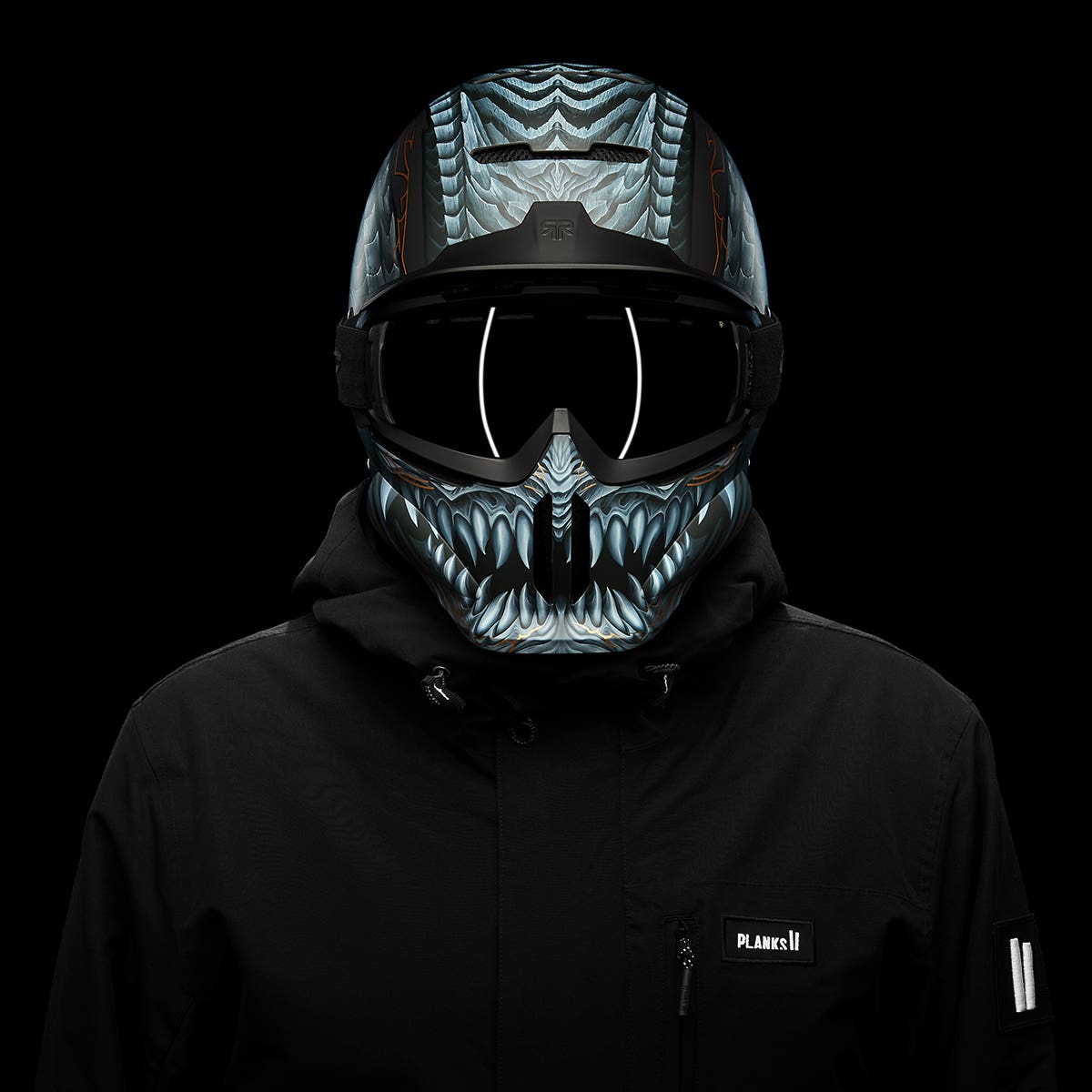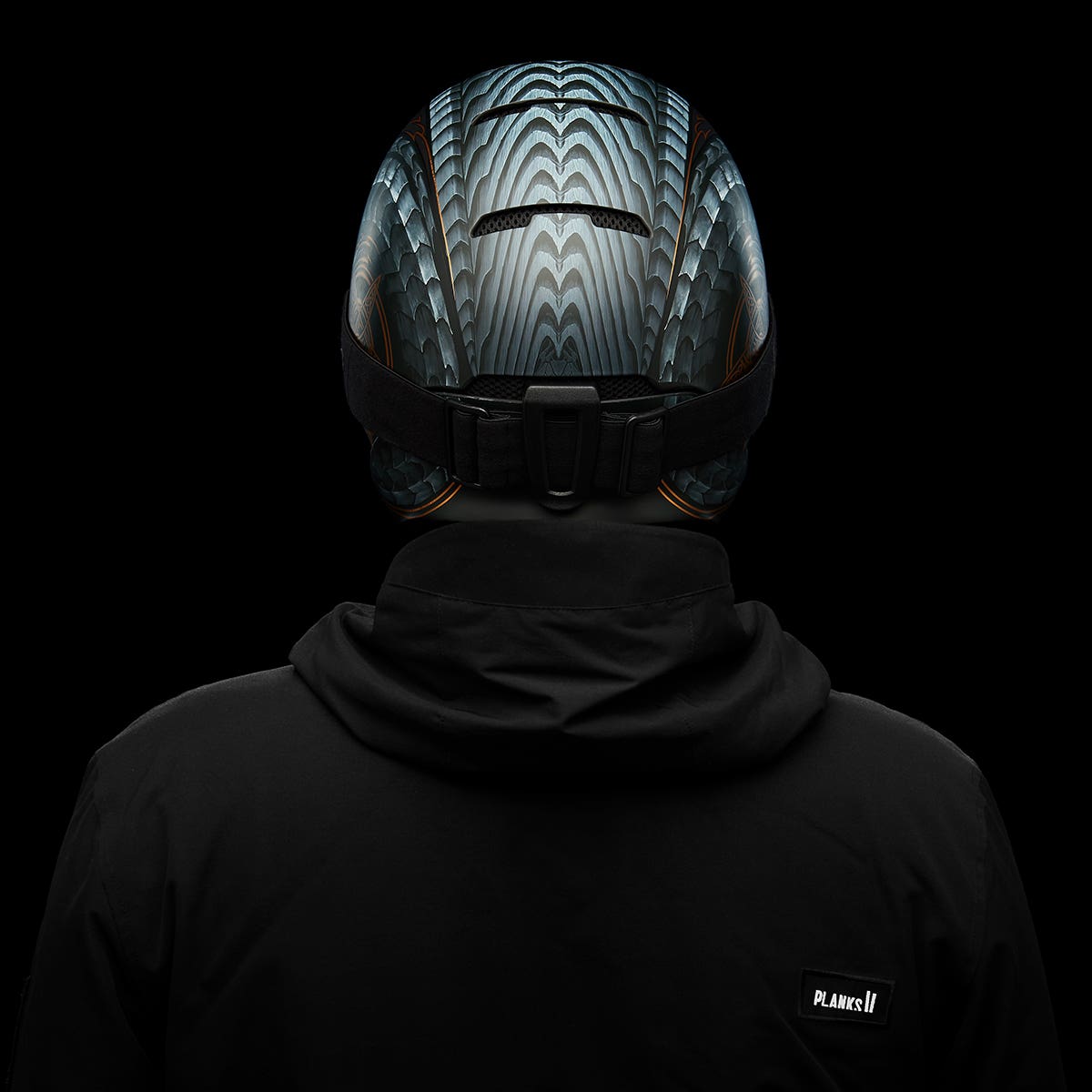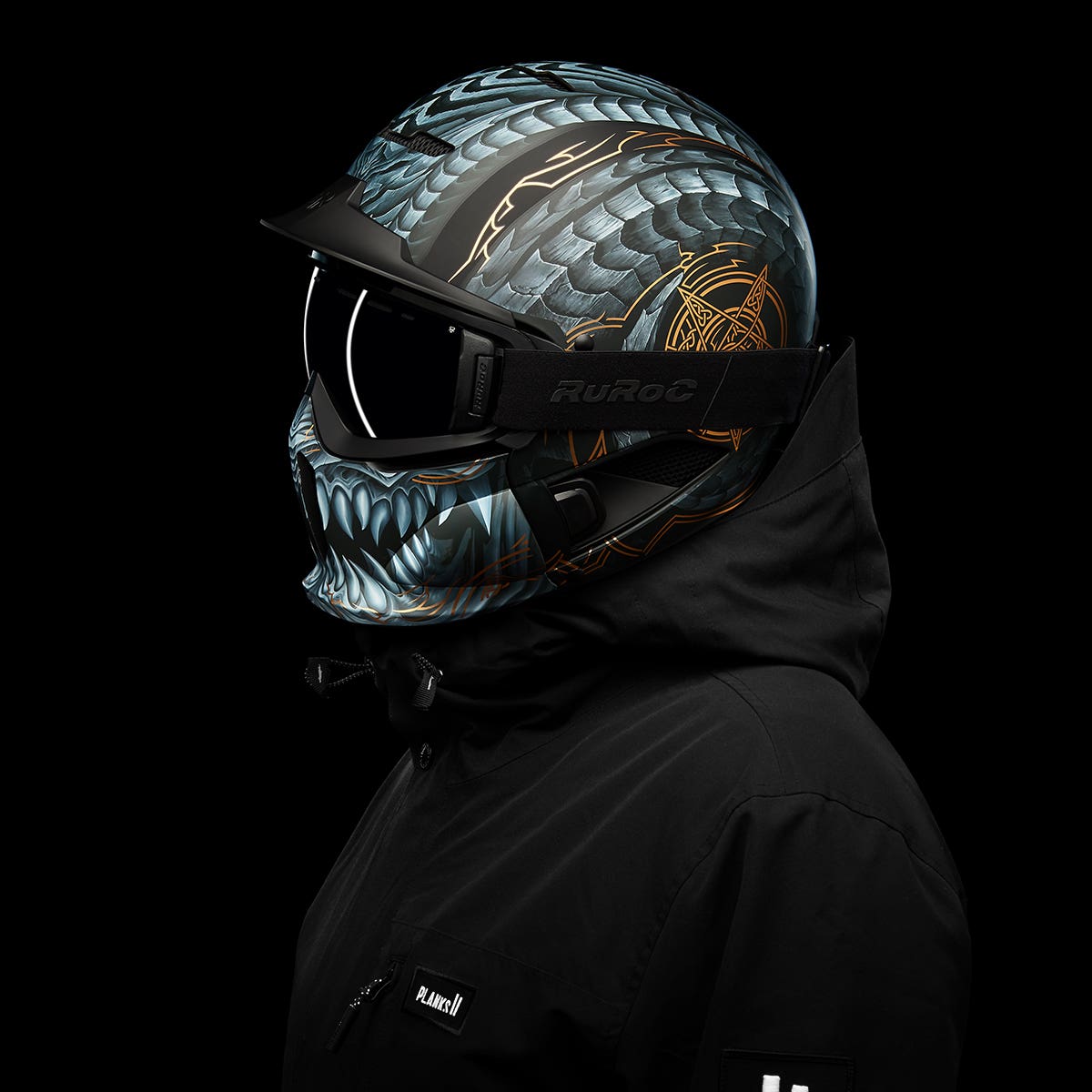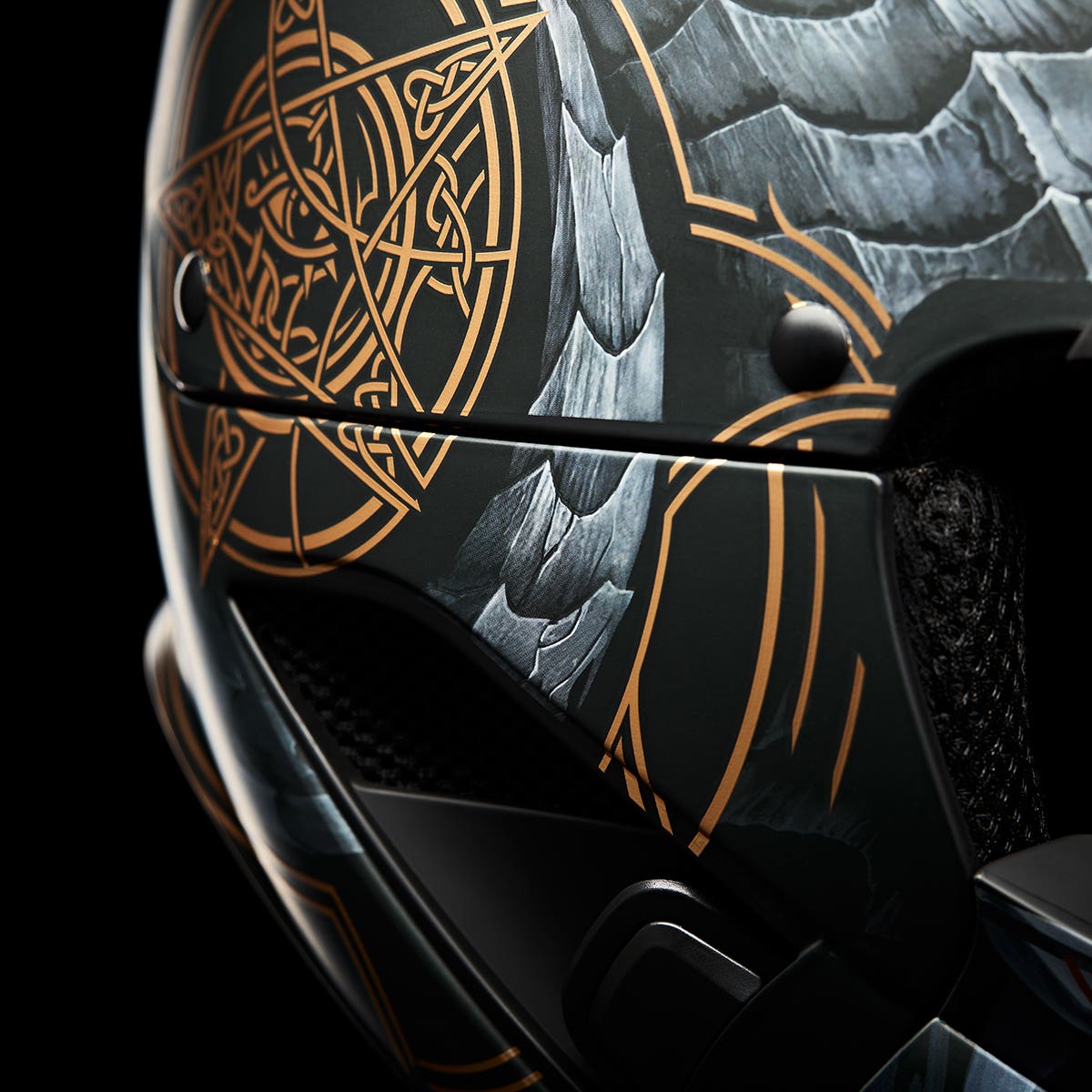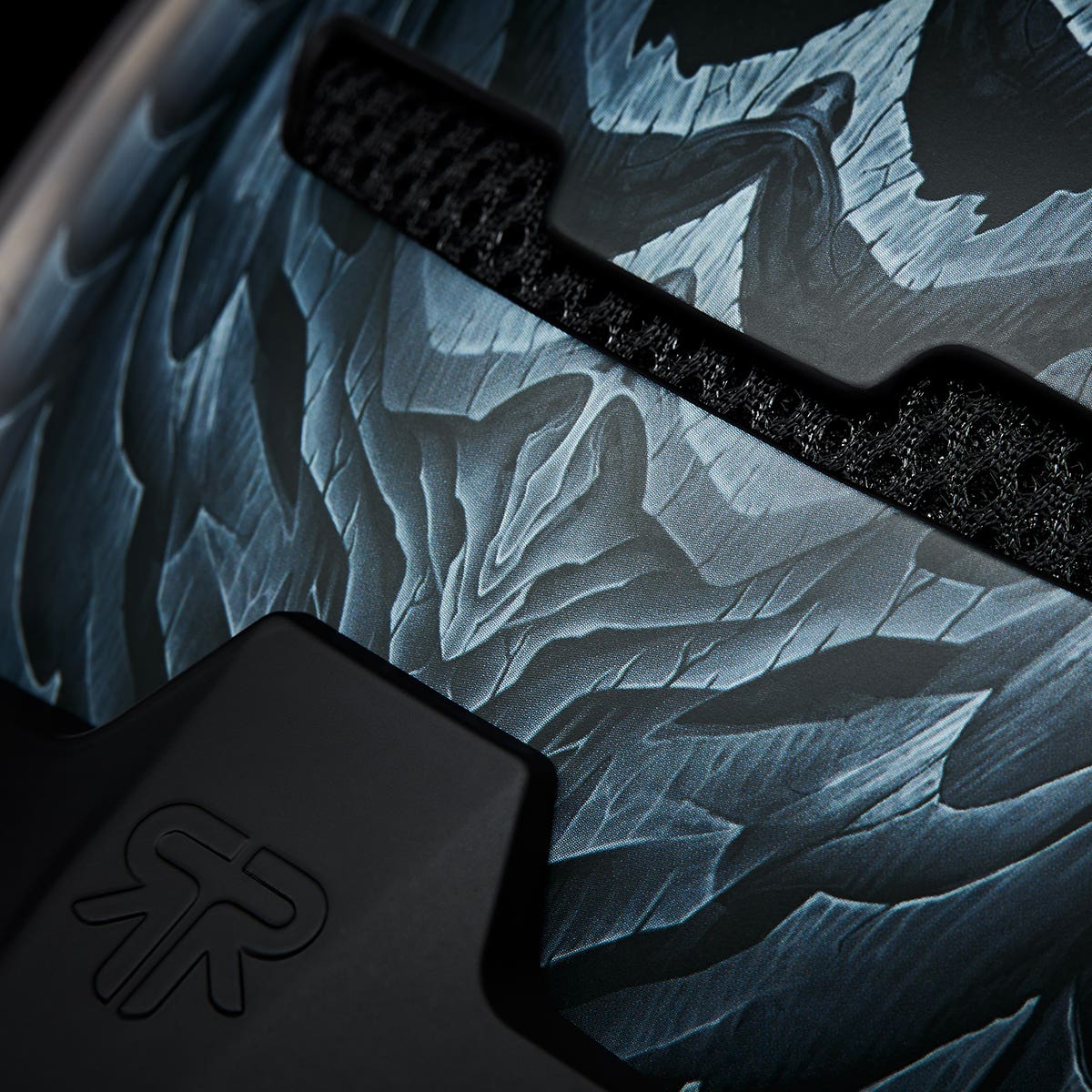 RG1-DX Helmet - Vanguard 21/22
TECH SPECS

- Toughened lightweight ABS shell
- Rheon® impact absorption liner
- Safety certified to ASTM F 2040 / EN1077A approved standards
- Easy to use Fidlock® magnetic chin strap buckle
- Built-in Recco® avalanche rescue reflector
- Full face protection
- Interchangeable aerodynamic peak
- Fully integrated magnetic goggles
- Removable face mask. Shatter-proof. Tested against impacts at -20°C
- Easy switch magnetic lenses
- Flow-coated anti-fogging
- Wide field of view
- RAID® airflow system
- Watertight magnetic lens seal
- ShockPods™ Bluetooth in-helmet audio system compatible

All RG1-DX Magloc goggles ship with a dark lens. Upgrade your goggles with 16 different lens colours to choose from.

ShockPods™ Bluetooth in-helmet audio system is available to purchase separately.
Summoned to do your bidding, the Vanguard RG1-DX full face snow helmet is here to conquer realms. Inspired by Norse mythology; the Vanguard is a force to be reckoned with. With elaborate and beastly skull detailing tapering back to rounded horns, contrasted by golden Norse-inspired iconography, the Vanguard has a mythological presence which can't be mistaken. Loaded with features from our famous RG1-DX helmet, the Vanguard won't ever let you down.

Our full-face snow helmets come included with a pair of Magloc goggles. These are designed to perfectly integrate into the RG1-DX helmet system, creating a full-face seal to protect you from the elements while encouraging air-flow through our patented RAID ventilation system. This system pulls air from the bottom face of the helmet up and through the goggles to the helmet which channels the air over the head and dumps excess heat out the back. All of this happens while you're riding and eliminates fogging in your goggles. We know vision is important on the slopes and the RG1-DX Magloc goggles are no different, with a quick-change magnetic lens system and 16 choices of lens options, you can see better in any and all conditions.

You can also turn your Vanguard into a fully Bluetooth compatible snow helmet with our ShockPod Bluetooth Audio system. With an integrated microphone and two speakers which are easily installable, your Vanguard can make and receive phone calls as well as playing your favourite tracks for a full day of riding. With a USB-rechargeable battery as well as a simple to use four button controller designed to be used in conjunction with ski gloves or mitts; the ShockPods are an absolute essential for long riding sessions. The ShockPod audio system is available separately.

Safety is the most fundamental part of our helmet philosophy. The RG1-DX features a Rheon impact-absorption liner which distributes energy effectively over the surface of the interior liner, slowing down the transfer of force to the head of the wearer. This means that rotational impact absorption is increased, while the liner itself has a comfortable, moisture wicking liner to keep your head dry and regulate your temperature. The modular full-face mask is also impact tested to -20 degrees Celsius to ensure your protected not just from the elements, but also any potential hazards in the unfortunate event of an incident. With Recco reflectors built in to aid in discovery and recovery in an avalanche situation; the Vanguard RG1-DX is here to protect you.
All reviews are from verified customers.
The World's first full-face snow helmet
Born to battle the elements, the RG1-DX offers next level protection for the whole head and face…whatever the conditions.
The original, the icon
We've taken the shell back to its simplified and streamlined roots, offering increased vertical visibility and more flexibility for action camera mounts.
Carve in even more comfort
New improved comfort liner is constructed with moisture wicking fabrics to keep you warm and dry.
Reinforced by Rheon®
The RG1-DX liner is integrated with RHEON™, a reactive polymer technology that is super lightweight and flexible, yet stiffens when exposed to impact forces, improving both impact and rotational energy performance.
How to measure
With a fabric measuring tape, wrap it around your head just above your eyebrows and ears.
Pull the tape comfortably tight. Take the measurement.
Repeat once more and go with the largest reading.
Our motorcycle and snow helmet fit is an intermediate oval.
Returns policy
If the fit is not quite right our return process is simple. 14 days to exchange, picked up from home. See our returns page for more details.