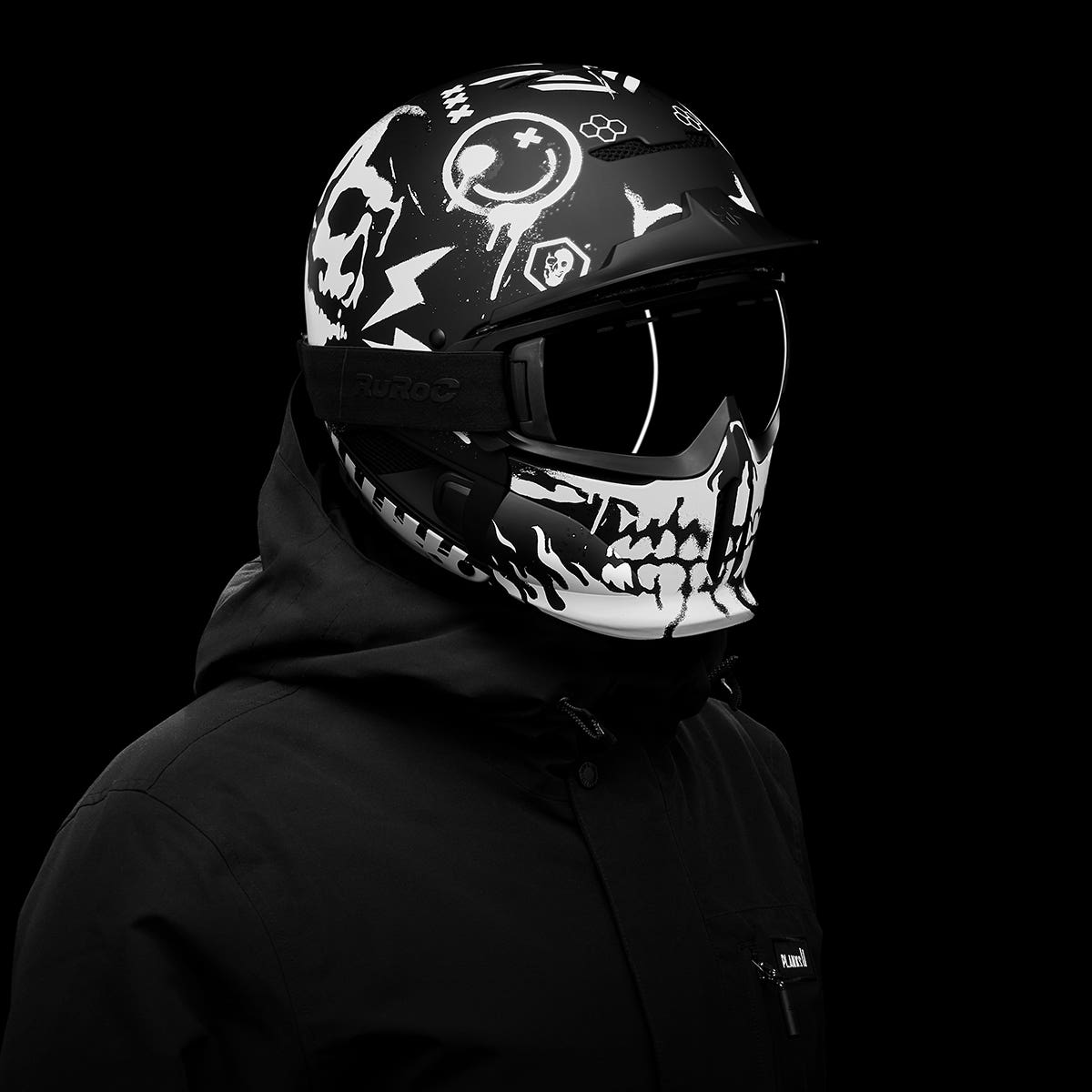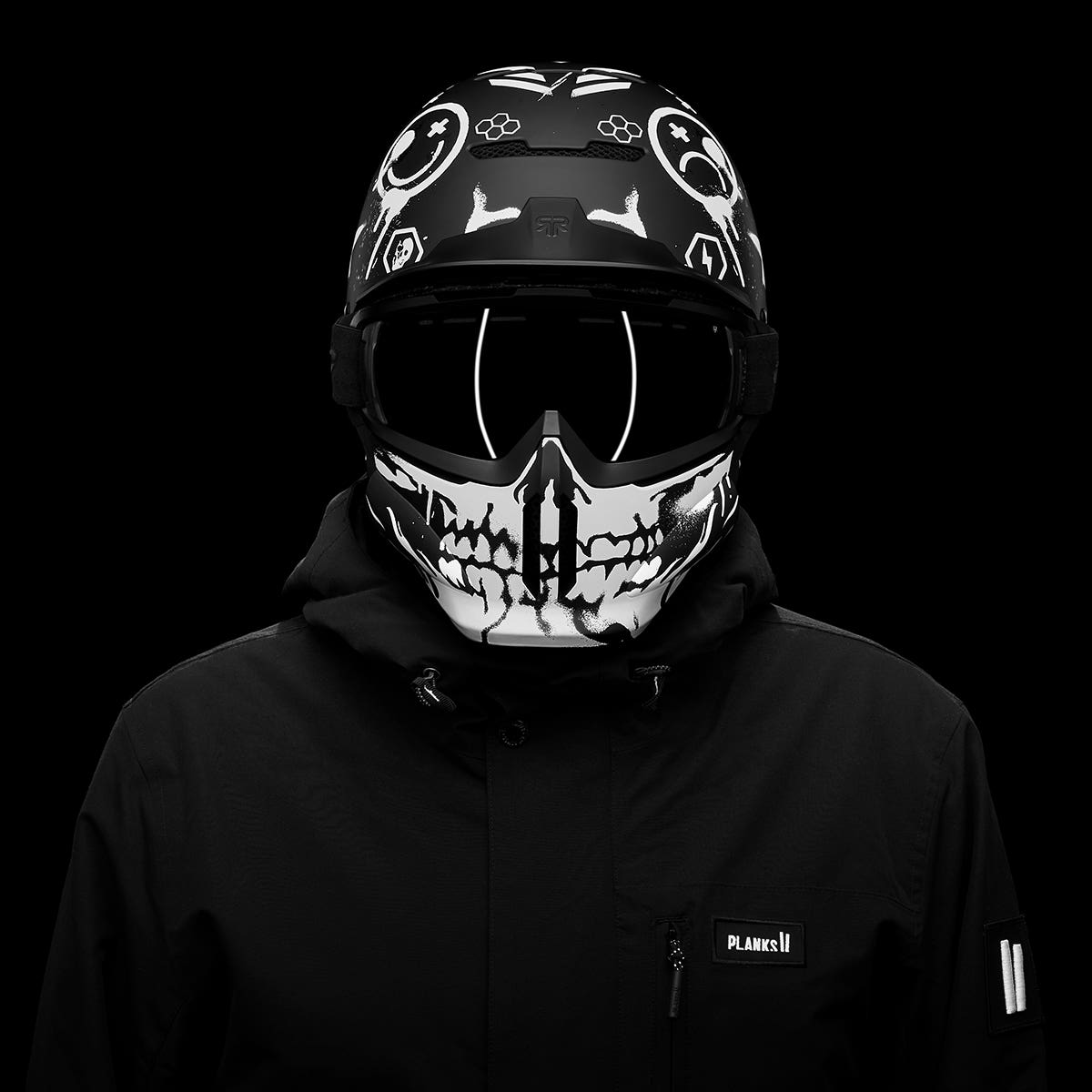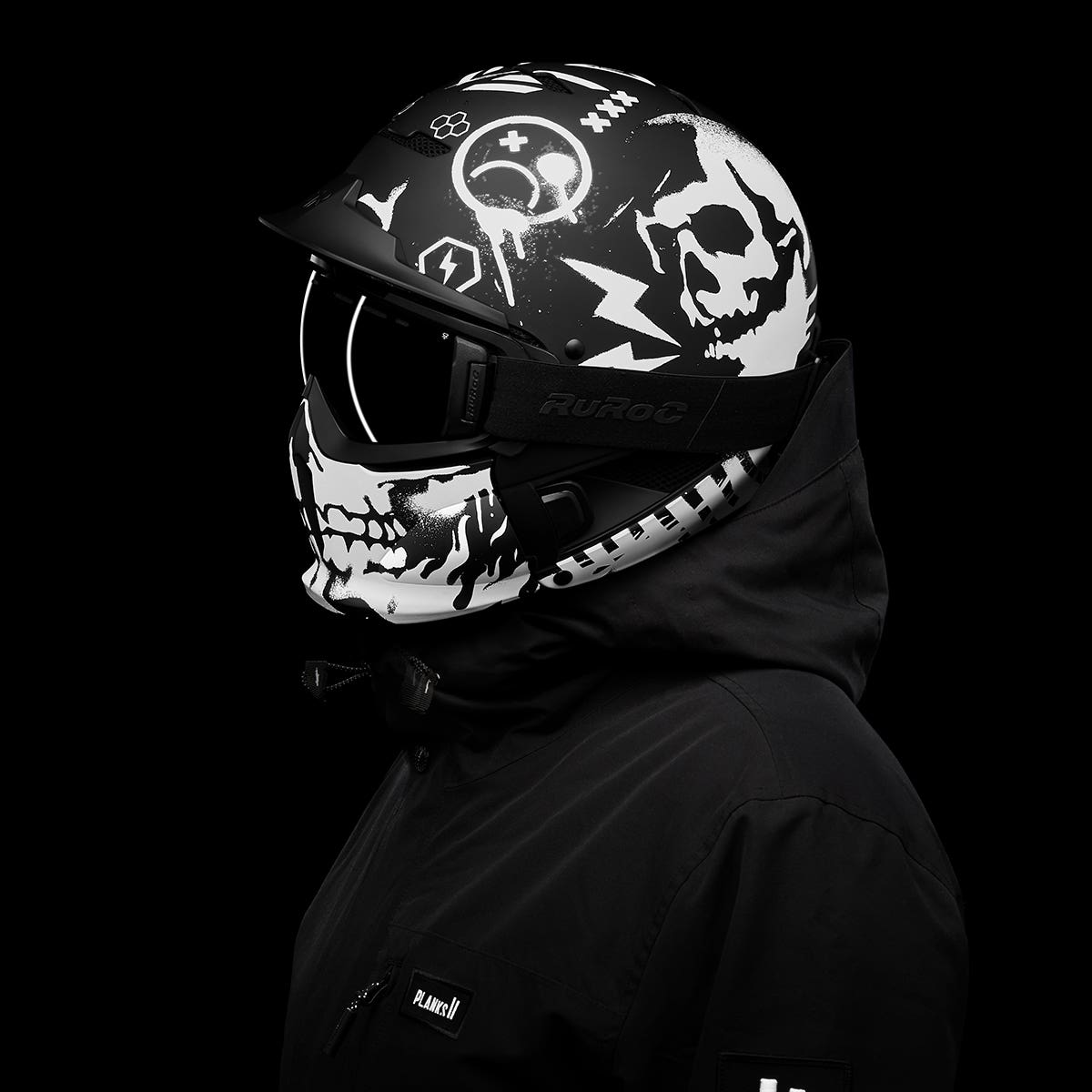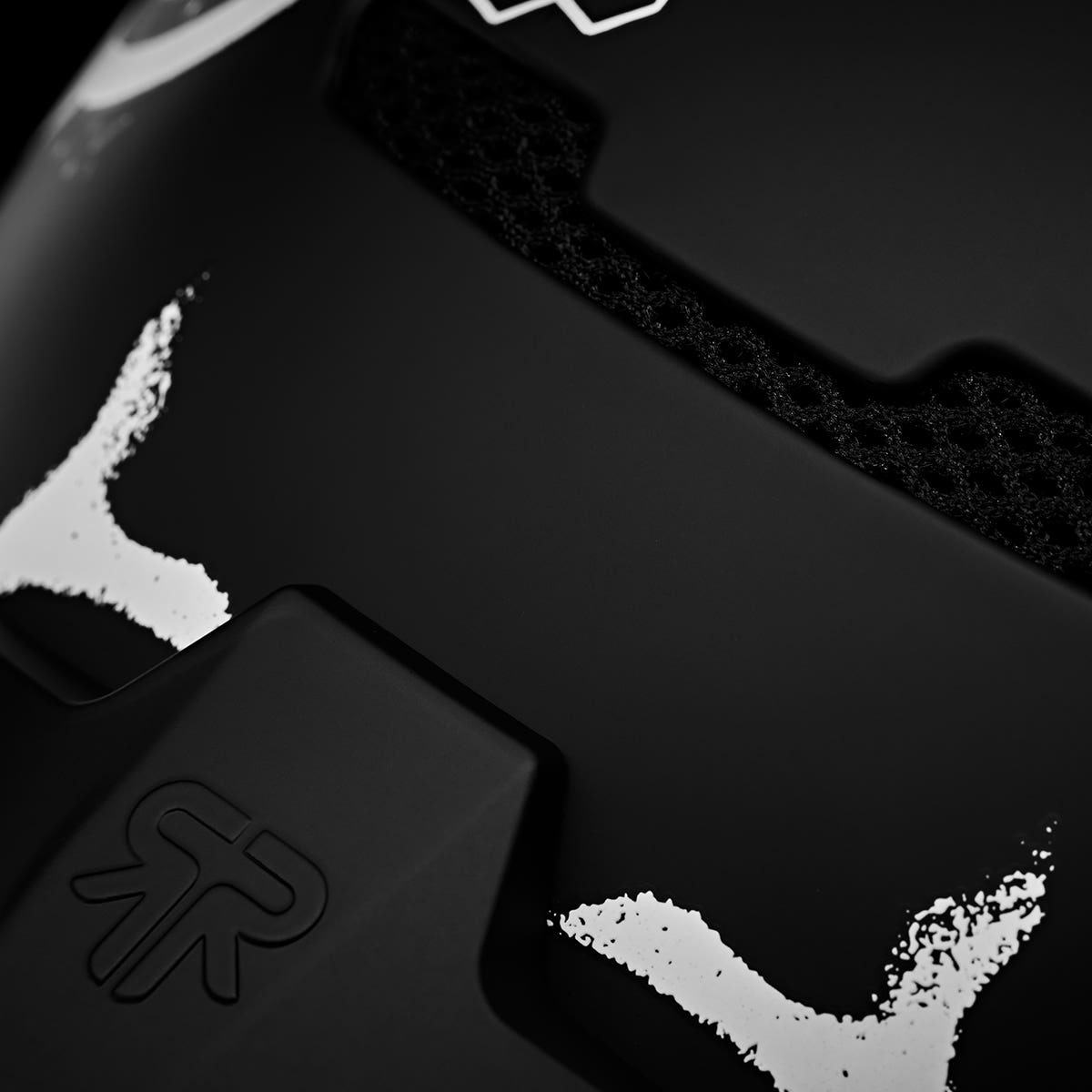 RG1-DX Helmet - Disarray 21/22 ASIAN FIT
TECH SPECS

- Toughened lightweight ABS shell
- Rheon® impact absorption liner
- Safety certified to ASTM F 2040 / EN1077A approved standards
- Easy to use Fidlock® magnetic chin strap buckle
- Built-in Recco® avalanche rescue reflector
- Full face protection
- Interchangeable aerodynamic peak
- Fully integrated magnetic goggles
- Removable face mask. Shatter-proof. Tested against impacts at -20°C
- Easy switch magnetic lenses
- Flow-coated anti-fogging
- Wide field of view
- RAID® airflow system
- Watertight magnetic lens seal
- ShockPods™ Bluetooth in-helmet audio system compatible

All RG1-DX Magloc goggles ship with a dark lens. Upgrade your goggles with 16 different lens colours to choose from.

ShockPods™ Bluetooth in-helmet audio system is available to purchase separately.
Embrace the disorder and revolt against the system with the Disarray RG1-DX. We wanted to capture the essence of what it means to rebel against the status quo, with chaotic graffiti motifs layered in white to contrast against the cool matte-black background, this helmet is built to get you where you need to be regardless of whether you're allowed to be there. Stand out from the crowd and don't take "no" for an answer with the Disarray RG1-DX.

Our full-face snow helmet (the RG1-DX) was a game-changer for Ruroc. It was the product that first put us on the map and disrupted the snow helmet industry forever. No longer did you have to subscribe to fancy, high-fashion full-face ski helmets to get the full-face protection and look you wanted. The Disarray is almost a tribute to that ideal, to standing out and not accepting what the masses tell you is the only way of doing things. We don't compromise in any step of our product development, with fully integrated magnetic quick-change goggles included with your helmet. These Magloc goggles offer an incredibly wide range of view, allowing you to scope your landings and always see better, while the 16 different lens choices we have available allow you to customise your look however you want or simply adapt to the changing conditions at the drop of a hat.

The full-face design features a modular, removable face mask. This isn't just added for the sake of it either, our face masks are impact tested to -20 degrees Celsius meaning they are built to take a hit, just like the rest of the helmet. With a Rheon liner to distribute the force and energy of an impact evenly across the dense liner material, the impact absorption level is supreme. The best thing? The Rheon liner also wicks moisture, keeping your head warm yet dry no matter the conditions.

Whether you want to keep in touch with your friends and family while out riding, or simply want to bump your favourite Wu-Tang track in the park, you can turn your Disarray helmet into a fully functional Bluetooth Snow helmet with our optional ShockPods Bluetooth audio system. Designed to perfectly integrate into the RG1-DX helmet with an effortless installation, you get a USB rechargeable speaker system with integrated microphone and voice assistant (Siri) capabilities. Want to manage your tracks, volumes and calls the old-fashioned way? Don't worry, the ShockPods also come with four tactile buttons which are easy to use even with gloves or mitts on, so you don't have to try and fish your phone out of your pocket to receive a call again.
All reviews are from verified customers.
The World's first full-face snow helmet
Born to battle the elements, the RG1-DX offers next level protection for the whole head and face…whatever the conditions.
The original, the icon
We've taken the shell back to its simplified and streamlined roots, offering increased vertical visibility and more flexibility for action camera mounts.
Carve in even more comfort
New improved comfort liner is constructed with moisture wicking fabrics to keep you warm and dry.
Reinforced by Rheon®
The RG1-DX liner is integrated with RHEON™, a reactive polymer technology that is super lightweight and flexible, yet stiffens when exposed to impact forces, improving both impact and rotational energy performance.
How to measure
With a fabric measuring tape, wrap it around your head just above your eyebrows and ears.
Pull the tape comfortably tight. Take the measurement.
Repeat once more and go with the largest reading.
Our motorcycle and snow helmet fit is an intermediate oval.
Returns policy
If the fit is not quite right our return process is simple. 14 days to exchange, picked up from home. See our returns page for more details.