ATLAS 4.0 HELMET - Hollow
Ruroc covers the cost of import taxes VAT/Duty.
Safety Certifications
ECE 22.06
DOT FMVSS 218
Reviews from customers
Source: Trustpilot
All reviews are verified customers.
Waarom een ATLAS 4.0 kopen?
ATLAS 4.0 is one of the first motorcycle helmets on the road to meet ECE 22.06. Not only that, we exceed all testing standards by a minimum of 20%, to give you the ultimate protection.
Het behalen van de ECE 22.06 certificering met ATLAS 4.0 lanceert ons in het volgende tijdperk van motorhelmveiligheid. Dankzij de ontwikkeling van de binnenzijde van de helm hebben we onze impactscores tot de laagste ooit kunnen terugbrengen, terwijl de integratie van RHEON het overdrachtspotentieel van rotatie-energie naar de hersenen heeft gehalveerd. De verfijnde pasvorm van de nieuwe voering is gebaseerd op antropometrische analyses en kinematische studies van de impact van de helm, en zorgt voor een maximale impactdemping met premium comfort.
James Campbell - Head of Engineering
The new standard for safety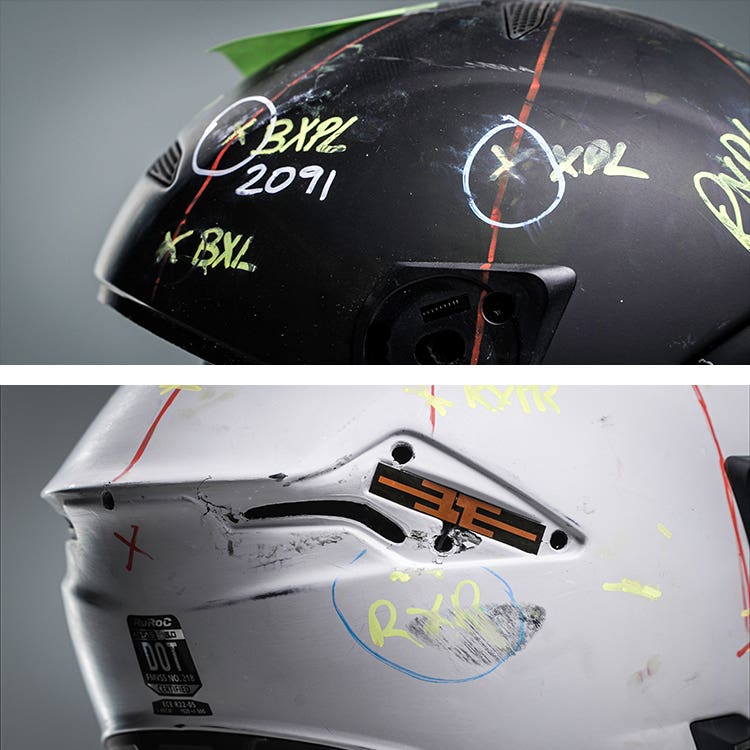 ECE 22.06
ATLAS 4.0 is one of the first motorcycle helmets on the road to meet ECE 22.06. Not only that, we exceed all testing standards by a minimum of 20%, to give you the ultimate protection.
Helm Kenmerken
Ultiem comfort
The fully re-engineered internals, including head-liner and cheek pads, take fit, comfort, acoustic control and support to a whole new level.
Stiller dan ooit
The ATLAS 4.0 internal lining is equipped with new sound-dampening inserts around the ear structure. This improves acoustic performance by 57%*, making it the quietest ATLAS ever produced.
*From ATLAS 3.0 vs our leading competitor
Climate Control
Take full control of your helmet environment with open/close vents throughout - including the addition of a new top vent switch.
Maximale Visie
Featuring 215° horizontal and 100° vertical field of vision, the ATLAS 4.0 edge-to edge visor maximises peripheral vision. Anti-scratch dipped, Pinlock 70 compatible, and made from Optical Grade Ballistic Polycarbonate, this is vision reinforced.
RHEON™ Bescherming
s Werelds eerste motorhelm voor op de weg met RHEON™ technologie. Bescherming van het hoogste niveau, naadloos geïntegreerd in de ATLAS 4.0 hoofdvoering.
Bluetooth Audio
Convert your ATLAS 4.0 into a full Bluetooth motorcycle helmet with our Shockwave audio system. Plug into your favourite tunes, take calls, and download our CHAIN App for Infinite range comms. It fits seemlessly into the back of your helmet, without compromising on the style, safety and aerodynamics of your setup.
Technische specificaties
A closer look at the details of the ATLAS 4.0
Gewicht:
1600 ± 50g
Het gewicht van de helm is gebaseerd op een SM. Andere maten zullen variëren
kinband:
Fidlock
Shell construction:
Carbon Fibre
Field of View:
215º Horizontal
100º vertical
Internal liner:
Rheon geïntegreerd & wasbaar
Ventilation:
2 Open/Close Switch Vents
(Chin & Top)
Vizier:
Pinlock
Compatible
Pinlock apart verkrijgbaar
Communications:
Shockwave compatible
Jij vroeg, wij luisterden
Is de helm geschikt voor alle seizoenen?
Ja; warm, koud, nat, winderig, noem maar op. Voor warme/koude dagen is een discrete open/dicht-schakelaar toegevoegd aan de bovenste ventilatieopening. Gemakkelijk te activeren tijdens het rijden als het weer verandert. Daarnaast is de helm optimaal afgedicht rond de ventilatieopeningen en het vizier om slagregen buiten te houden op natte en winderige dagen.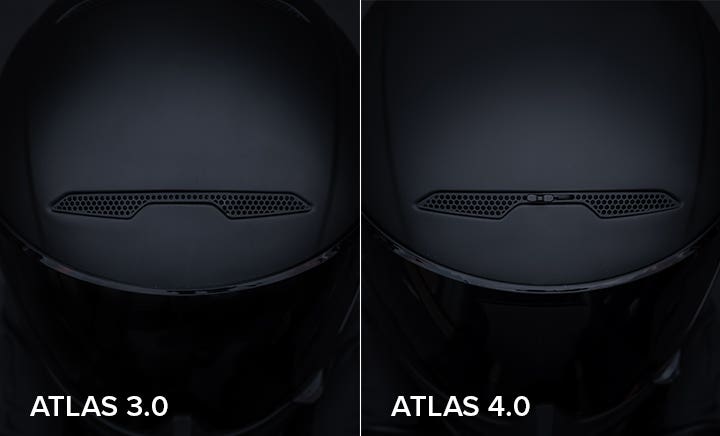 Wat is er intern aan de helm veranderd?
In samenwerking met RHEON™ hebben we de ATLAS 4.0 verbeterde comfort liner ontwikkeld, de eerste in zijn soort die in motorhelmen wordt gebruikt, en een doorbraak in het beheer van roterende energie. De geheel nieuwe wang/comfort liner constructie heeft tot zeven lagen multi-density comfort schuim met gerichte gebieden van akoestisch schuim voor de ultieme pasvorm, comfort en geluidsreductie.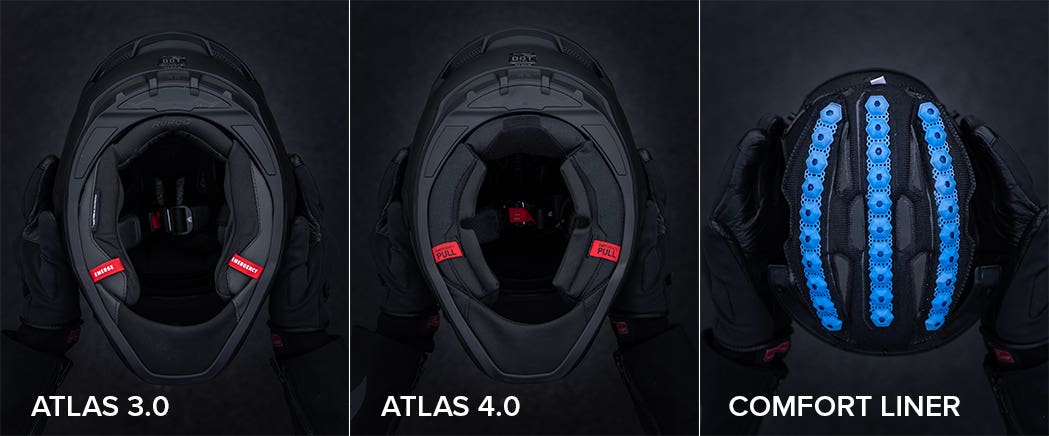 Maakt de helm veel lawaai tijdens het rijden?
Uit tests in de windtunnel van Silverstone, waarbij de ATLAS 4.0 werd vergeleken met concurrenten en eerdere ATLAS-modellen, is gebleken dat de akoestische prestaties van de ATLAS 4.0 met 57%* zijn verbeterd, waardoor het de stilste ATLAS is die ooit is geproduceerd. De volledige resultaten van de tests kunnen hieronder worden bekeken.
Testresultaten downloaden
*Van ATLAS 3.0 vs onze grootste concurrent.
Kan ik met andere motorrijders communiceren terwijl ik de helm draag?
's Werelds eerste oneindig bereik comms-app voor motorrijders is ontwikkeld naast ATLAS 4.0 / VOIP-systeem kan verbinding maken met elke rijder ter wereld met behulp van de app.
Meer Weten
Is de helm onafhankelijk getest?
ATLAS 4.0 is GLOBAAL onafhankelijk getest; bij Newton labs in Italië voor impact demping ontwikkeling, bij VIAS Institute in België voor ontwikkeling en ECE 22.06 certificering, en bij ACT Labs in China voor DOT impact en penetratie testen en certificering. Daarnaast hebben ATLAS 2.0 en 3.0 een 4* SHARP rating gekregen, een evaluatie die alleen kan worden bereikt door onafhankelijke aankoop en test, en zodra ATLAS 4.0 op de markt is, zal dit de volgende op de lijst zijn.
Wanneer worden de helmen verzonden?
ATLAS 4.0 helmmaten zullen elk een van drie verzendstatussen hebben.
Available now
These items are physically in our warehouse and ready to dispatch immediately! Place your order today for this item and it will be processed and dispatched within 24 hours (excluding Saturday/Sunday) - always check if all items in your basket have the same stock status as this may cause your order to wait for the longest lead item.
In transit
Items with this status are in transit to the Ruroc HQ! This means these items are either in a plane or on a boat on their way to us as we speak. Once they land at HQ they will be ready to immediately dispatch by the date given above.
In production
These items are either in the paint shop or on the assembly line! This means your gear is being produced and will have spent no time sat on a shelf by the time it arrives with you meaning unlike when you purchase a helmet from a store that may have been on a shelf for over a year we can guarantee you'll have the full life of your safety product! Pre-order these items now and you'll be the first to get yours once they've arrived. They will dispatch within the month displayed.
Wat is jullie retourbeleid?
Je kan tot 14 dagen na levering bij ons retourneren of ruilen. Bekijk onze retouren pagina hieronder:
Retourbeleid