Key Features
Ultra-tough Carbon fibre shell construction
The World's first road helmet to Integrate RHEON impact technology
Multi-Density EPS for targeted impact protection
Premium headliner and multi-density cheek-pads for optimised comfort and fit
Edge-to-edge coverless visor with an ultra-wide field of view (215 degrees)
Super simple-yet-secure Fidlock chinstrap
Compatible with our integrated Bluetooth communication system, Shockwave
All reviews are from verified customers.
The new standard for safety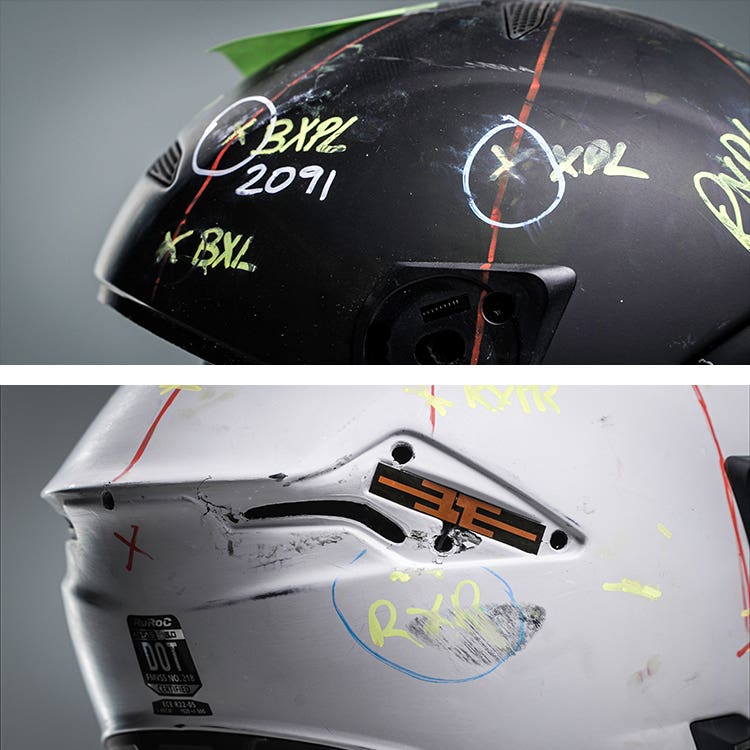 ECE 22.06
ATLAS 4.0 is one of the first motorcycle helmets on the road to meet ECE 22.06. Not only that, we exceed all testing standards by a minimum of 20%, to give you the ultimate protection.
Helmet Features
Ultimate Comfort
The fully re-engineered internals, including head-liner and cheek pads, take fit, comfort, acoustic control and support to a whole new level.
Quieter than ever
The ATLAS 4.0 internal lining is equipped with new sound-dampening inserts around the ear structure. This improves acoustic performance by 57%*, making it the quietest ATLAS ever produced.
*From ATLAS 3.0 vs our leading competitor
Climate Control
Take full control of your helmet environment with open/close vents throughout - including the addition of a new top vent switch.
Maximum Vision
Featuring 215° horizontal and 100° vertical field of vision, the ATLAS 4.0 edge-to edge visor maximises peripheral vision. Anti-scratch dipped, Pinlock 70 compatible, and made from Optical Grade Ballistic Polycarbonate, this is vision reinforced.
RHEON™ Protection
The world's first road-ready motorcycle helmet to feature RHEON™ technology. Next-level protection seamlessly integrated into the ATLAS 4.0 head-liner.
Bluetooth Audio
Convert your ATLAS 4.0 into a full Bluetooth motorcycle helmet with our Shockwave audio system. Plug into your favourite tunes, and take calls. It fits seemlessly into the back of your helmet, without compromising on the style, safety and aerodynamics of your setup.
Tech Specs
A closer look at the details of the ATLAS 4.0
Weight:
1600 ± 50g
Helmet weight is based on a SM. Additional sizes will vary
Chinstrap:
Fidlock
Shell construction:
Carbon Fibre
Field of View:
215º Horizontal
100º vertical
Internal liner:
Rheon integrated & washable
Ventilation:
2 Open/Close Switch Vents
(Chin & Top)
Visor:
Pinlock
Compatible
Pinlock sold separately
Communications:
Shockwave compatible
You asked, we listened
Is the helmet suitable for all seasons?
Yes; hot, cold, wet, windy, you name it. For hot/cold days, a discreet open/close vent switch has been added to the top vent. Easy to activate whilst riding if weather changes. In addition, the helmet is optimally sealed around the vents and visor to keep driving rain out on wet and windy days.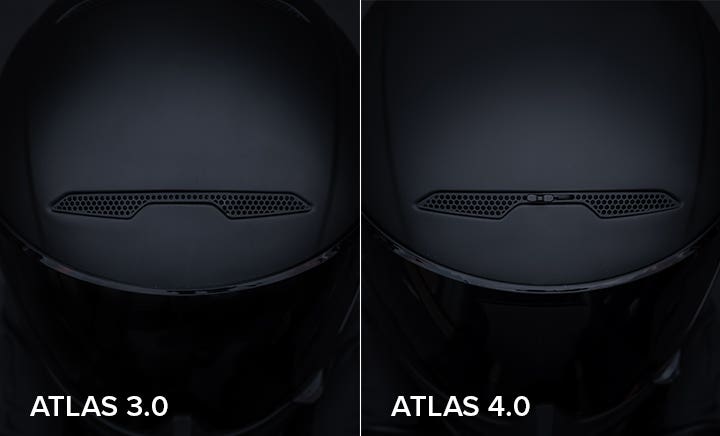 What changes have been made internally to the helmet?
We have partnered with RHEON™ to create the ATLAS 4.0 enhanced comfort liner, the first of its kind to be used in motorcycle helmets, and a game-changer in rotational energy management. The all new cheek/comfort liner construction boasts up to seven layers of multi-density comfort foam with targeted areas of acoustic foam for the ultimate fit, comfort and noise reduction.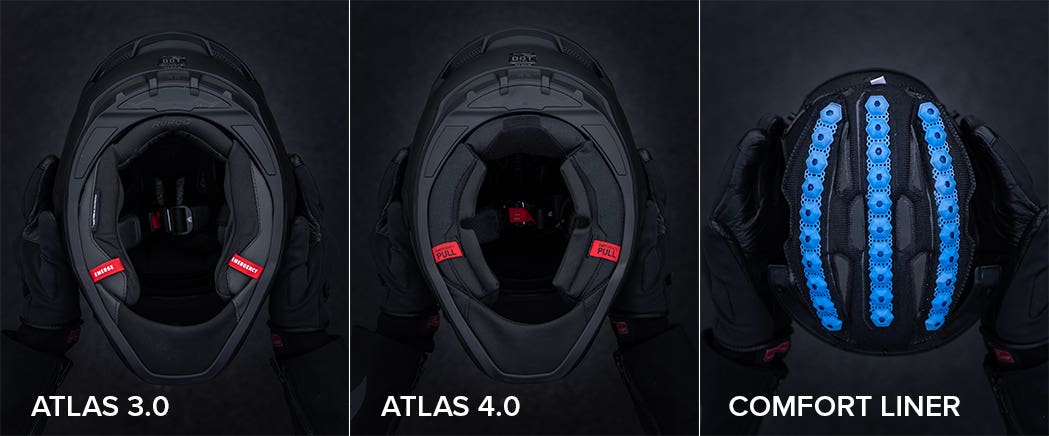 Is the helmet loud when riding?
Testing at Silverstone Wind-Tunnel comparing ATLAS 4.0 to competitors and previous ATLAS models showed acoustic performance on the ATLAS 4.0 is improved by 57%*, making it the quietest ATLAS ever produced. Full results of the testing can be viewed below.
Download test results
*From ATLAS 3.0 vs our leading competitor.
Has the helmet been independently tested?
ATLAS 4.0 has been GLOBALLY independently tested; at Newton labs in Italy for impact attenuation development, at VIAS Institute in Belgium for development and ECE 22.06 certification, and at ACT Labs in China for DOT impact and penetration testing and certification. Alongside this ATLAS 2.0 and 3.0 have been granted a 4* SHARP rating, an evaluation that can only be achieved through independent purchase and test, and once ATLAS 4.0 is on sale this will be next on the list.
When will helmets be shipped?
ATLAS 4.0 helmet sizes will each have one of three shipping statuses.
Available now
These items are physically in our warehouse and ready to dispatch immediately! Place your order today for this item and it will be processed and dispatched within 24 hours (excluding Saturday/Sunday) - always check if all items in your basket have the same stock status as this may cause your order to wait for the longest lead item.
In transit
Items with this status are in transit to the Ruroc HQ! This means these items are either in a plane or on a boat on their way to us as we speak. Once they land at HQ they will be ready to immediately dispatch by the date given above.
In production
These items are either in the paint shop or on the assembly line! This means your gear is being produced and will have spent no time sat on a shelf by the time it arrives with you meaning unlike when you purchase a helmet from a store that may have been on a shelf for over a year we can guarantee you'll have the full life of your safety product! Pre-order these items now and you'll be the first to get yours once they've arrived. They will dispatch within the month displayed.
What is your returns policy?
We offer returns or exchange up to 14 days after delivery. View our returns page below:
Returns Policy