The World's First Full-Face Safety-Certified Moto-Helmet With Magnetic Integrated Goggles
Go Berserker!
Optimised
Optics

Spot every hazard with wide-viewing anti-fogging goggles

Lightweight
Carbon-Fibre

No neck-ache after a long day of ripping

Airflow /
Ventilation

Breathe easy & stay cool with open/close vent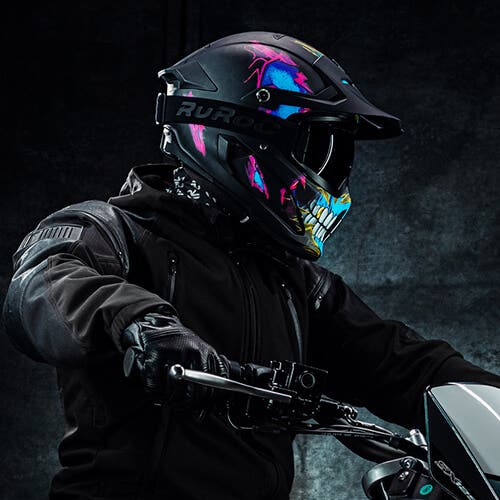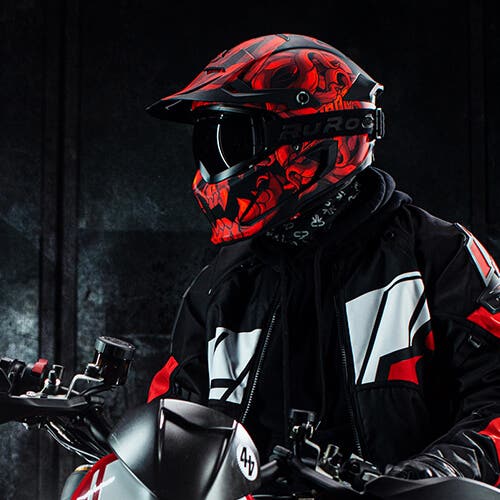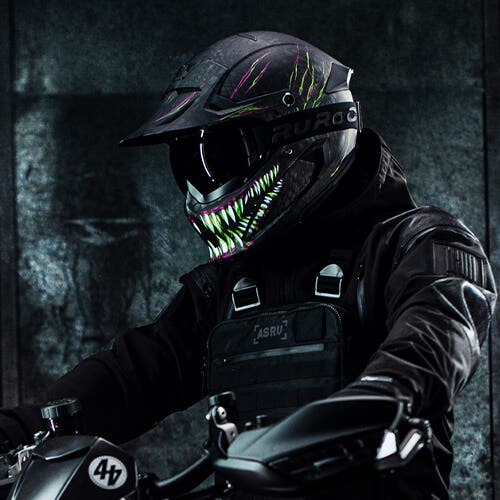 Built for the concrete jungle
Off-road styling meets street performance
Off-road styling meets street-performance. The world's first full-face safety-certified moto-helmet with integrated magnetic goggles! The Berserker is the ideal on-road performance helmet for supermoto riders, quad-rippers & the urban streetfighter! With its aggressive shape, insane airflow & crazy-comfortable internal lining. Prepare to bend rules & redefine protocol!
The Berserker goggle revolutionises the city-scape with dual-pane anti-fogging optics! Fitted with an adjustable aero-dynamic peak, it's dripping street savagery! When things get hostile… an aerospace-grade Carbon Fibre shell is the ultimate reinforcement! Bluetooth compatible!
Shop Now
11 Epic Designs
The Berserker Range
Shop Now
History in the Making
Throughout history, the warrior's helmet has evolved. The shape, the features & the materials. Not everything has changed though. The fierce adrenaline & the rush of wearing one is timeless!
Shop Now
Technically Brilliant
Take it to the streets with a lightweight & toughened Carbon-Fibre shell. Carved into a streetfighter-style mould for the urban ripper. Protected by DOT & ECE certification, backed by emergency-release cheek-pads & secured with the classic D-Ring chin-strap. The Berserker helmet is fully-integrated with magnetic goggles & anti-fogging properties. Providing absolute visual clarity with a broad field of view. Click your Maglens in place with a tactile & quick connect. Securing your lens with a water-tight hold. Bluetooth compatible.
Shop Now
Take protection seriously with industry-leading technology
Protection Re-engineered
Industry-leading carbon-fibre. The lightest form of heavy-duty protection
DOT & ECE 22.05 approved!
With an ultra-lightweight shell riding is more comfortable and feels way more free. Zero restrictions, zero neck-ache.
Get connected with the classic D-Ring Safety Strap. Tried and Tested
Globally renowned safety chin-strap!
Safety-certified to DOT & ECE standards.
Ride with stylistic versatility and wear your Berserker in three different ways
With goggles and peak, just goggles or just the peak!
Adjust your peak position to suit yourself. The Berserker RAID system prevents fogging & optimises airflow
Cool, calm & connected.
Flow-coated magnetic lenses work with the RAID system to ensure visual clarity.
Berserker Goggles
Magnetic Lens

The quickest and easiest optic-transition the moto-world has to offer. Feel your magnetic lens snap into place with water-tight security

Raid airflow system

Our patented Raid system for optimal ventilation. Raid collaborates with the flow-coated lens to ensure zero fog.

Flow-coated anti-fogging lens

Eliminate all fog and ride with high-definition visibility.

Enhanced Field of View

Spot every hazard in your periphery with an ultra-wide Field of View.
Have The Freedom To Choose With An Open/Close Ventilation System.
Ventilation Control
Breathe easy & regulate airflow depending on conditions. Open for warmer weather. Close-up in colder climates.
Emergency-Release Cheek-Pads For Safe AND Immediate Helmet Removal
For Emergency Use Only!
In the unlikely case of a road-accident, the rider's helmet can be removed with ease to prevent possible injury.
8 hour battery life

Long-lasting for those long-distance journeys. You can even recharge on-the-go!

Listen to music

Rideout to your favourite playlists in high-definition. With a tactile & easy-to-use button system.

Make calls

Stay connected with your people from the comfort of your helmet.

Easy Installation

Simply unscrew the Shockwave cover, insert the device & rescrew to install.
Bluetooth Compatible
Hit the road with the recently updated in-helmet audio system Shockwave. Louder & crisper than ever. Available for separate purchase.